Terri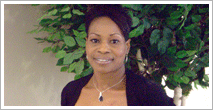 SalonPHD's hours are :
Sun, Monday, Tuesday off
Wednesday 10am - 5pm
Thursday- Friday 10am - 7pm
Saturday 8am - 4pm
Please call for appointment
Call in Advance
24 hrs needed for cancellation. There will be a 25.00 charge if you fail to do so
About Terri
I have been Trailblazing this industry for over 15yrs as an educator in the Hair Industry with Professional Salon Experience.
My greatest accomplishment is to be able to enhance and transform all of my client's needs.
Services Offered
Providing knowledge on how to maintain and take care of hair.
Specialize in healthy hair care.
Chemical relaxed hair.
Natural hair.
Creating signature colors to fit you and your lifestyle leaving the hair vibrant and shinny.
Or taking color to the next level with Highlights.
Reconstructing damaged hair to its natural state with my signature hair treatments, the hair will be restored and see immediate results.
Maybe you want to try something new with a Flawless Weave or Extension.
Salon PhD also offer great Cuts whether it is short and trendy or long layers to show off your tress.
Salon Certifications
I am a local educator with Influance.
And the newest relaxer system Influance sold exclusively in professional salons.
Chemical relaxed hair.
This system has sensitive scalp.
Shea butter.
Regular crème relaxer that will not over process the hair.
Great conditioning treatments.
Line of finishing products leaving the hair looking its best.
Also been Certified with some of the top companies such as

Mizani
Affirm
Design Essentials
Matrix
Come see what Salon Phd has to offer you.Book your next appointment
"Trained eyes that will help identify the look that is just right for you."